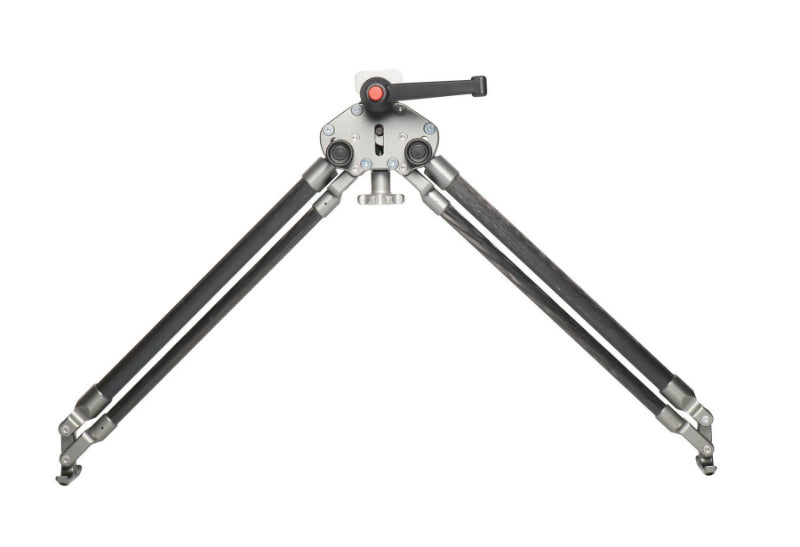 A great review of the Carbon FTR by Target Shooter Magazine
Full article here: http://www.targetshooter.co.uk/?p=2380
By Laurie Holland, Target Shooter Magazine - Images property of Laurie Holland
When I took my latest toy, the new super-wide track Tier-One bipod, to Diggle Ranges for a mid February F-Class match there were raised eyebrows. There was plenty of time to show it around in the Range House as this wasn't an auspicious day for trying new kit and techniques – but more on that shortly. 'Lovely bit of engineering …. very light', shooters said, 'but you already own enough of these things to open a museum …. and you've just got a SEB Mini-Rest! What do you need another bipod for?'


The new Tier-One Carbon bipod
Well, this was an initiative that started nine months ago, when Diggle Ranges hosted a 'Leica Experience' – an optical products event for sporting shooters. Evo Leisure Ltd was also there with a display in the Osprey Rifles' on-site 'Shooting Lodge' shop. Evo manufacture the superb Tier-One range of scope-rails, mounts, sound-moderators etc., these being mainly what was on show but, the company also designs and makes some of the best FTR type bipods around, used by serious competitors worldwide.
However, a prototype with carbon fibre legs and the widest track I'd ever seen – a full 660mm or two thirds of a metre – caught my attention. Osprey's Stuart Anselm went on to 'road-test' that example in last year's GB F-Class Association League rounds and it obviously worked for him as he is our current FTR champion.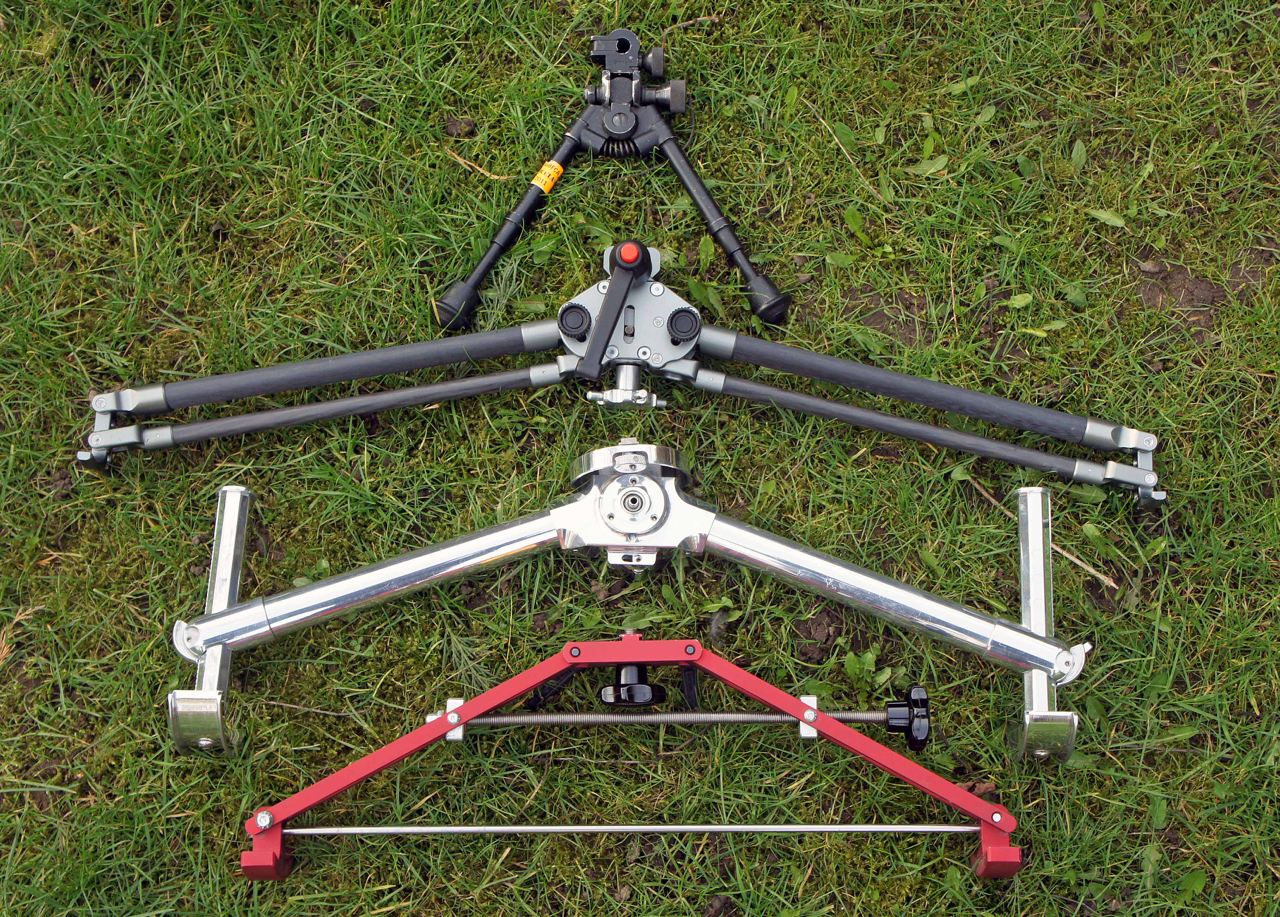 Bi-pod 'footprints', top to bottom: traditional folder (Versa-Pod); Carbon bipod; SEB Joy-Pod; Dolphin Trakker. The Carbon and Dolphin models are at their lowest/widest setting.
Open Options
Whilst Stuart shoots FTR, I shoot F-Class 'Open' these days, so I use a front-rest …. not an 'inferior, less stable' bipod, surely? Yes and no! (…. and don't call me Shirley! … in homage to the late Leslie Nielsen). If you've ever shot at Diggle, you'll know that this moorland venue, way up in a Pennine valley, can see a bit of walking and climbing to get to some firing-points, despite the Pennine Shooting Sports Association having recently installed vehicle-access to many of the furthest out locations.
It's the amount/weight of kit issue – whilst it's great shooting from a super-stable, smooth-operating joystick front-rest like the popular SEB Neo, it's not so great if you're still wheezing when the match starts, not fully recovered from the exertions of carrying it and a heavy rear bag to the firing point. Even with the rifle and a lot of the gear back-packed in a drag bag, having both hands occupied with a rest, mat and rear-bag can be hazardous too on some of Diggle's footpaths, should you lose footing and have to fight to restore balance. The superb SEB Mini-Rest is a partial answer, especially if carried in a shoulder bag – which Seb Lambang is about to provide for his new creation.
However, it had gradually dawned on me that 'Open' shooters don't actually need a front-rest – many FTR 'pods being very stable. I first saw this at the 2013 F-Class 'Worlds' in Raton when partnered with Canadian national team member Stephen Baardsen whom I incorrectly assumed was in FTR like myself, given his use of a Rempel bi-pod. I did wonder how he 'made FTR weight' with this stable but heavy design – he turned out to be in 'Open' and the Rempel coped happily with the 7mm SAUM cartridge and 180gn bullets at respectable MVs. More recently, a few Diggle 'Open' regulars have switched to bipods – the wide-track, easily adjusted SEB Joy-Pod a favourite, often with the joystick facility locked up.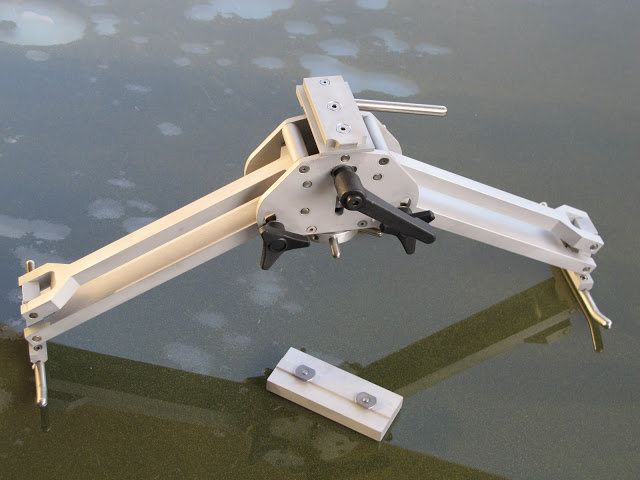 Wide
Evo has made bipods for some years, using the same twin leg-strut arrangement as the aforementioned Canadian Rempel. This earlier model is still available – manufactured out of CNC-machined aluminium alloy billet, it is widely used by GB FTR shooters and their equivalents in many other countries too. It weighs 590g (20.8 oz), has a maximum (lowest elevation setting) 475mm (18¾-inch) 'footprint' and a 120mm (4¾-inch) height adjustment range.
The new Evo 'Carbon' model increases maximum footprint to 660mm (26-inches), adjustment range to 150mm (6-inches) and, thanks to carbon-fibre substitution, weights less at 550g (19.4 oz).
If there is a disadvantage to these designs using the hinged A-frame form it is this – as elevation is wound on, the 'footprint' reduces and the rifle/bipod therefore become less stable and thus more torque affected. My intention with the ultra-wide EVO Carbon was to use a minimum height setting allied to a smallish back bag (with the added plus it fits my drag bag's rear pocket for easy carrying) for a low shooting position (one I prefer anyway) and retain maximum bipod 'footprint' for stability/torque resistance. With the smaller rear bag in the drag bag, the bipod goes into my Aim Field Sports shooting-mat bag with the mat and Weather Writer document holder, so everything now goes into two pieces of 'luggage'.
Dolphin Connection

Another major bipod problem is ensuring that there is enough muzzle elevation for all target lanes. This is another Diggle issue – every distance's firing line is at a different elevation in relation to the targets, all involving shooting uphill and, at any particular distance, the line is actually a series of tiered steps dropping down the valley side. This requires a much larger elevation adjustment range than say Bisley and many bipods and some front-rests too, are unable to accommodate.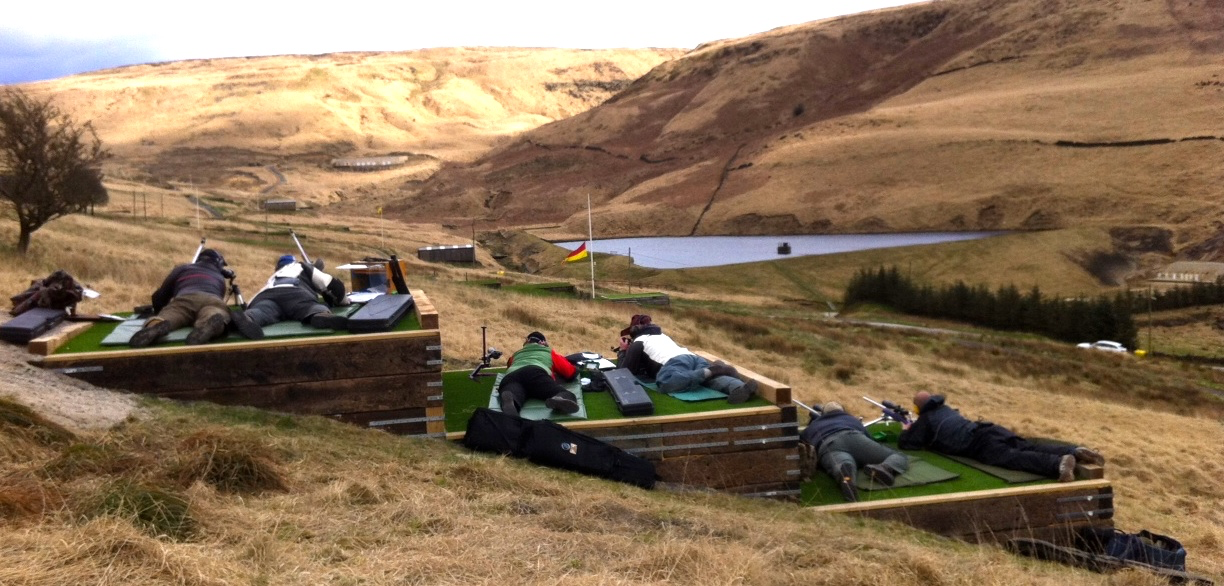 Therefore a key part of the Baldrick/Holland 'Cunning Plan' involves the Dolphin modular chassis rifle stock – both of my F-Class numbers being so equipped. As I use them in Benchrest competition as well as 'F' and will use the SEB Mini-Rest on easily accessible firing points in the latter discipline, I need to be able to switch between bipod and front-rest according to circumstance. Dolphin Precision offers both types/widths of fore-end on its stocks (a 'tactical' version too come to think of it), with attachment via four socket-head setscrews and a swap can be done in a couple of minutes. I already had FTR and 'Open' fore-ends for my 7mm-08 Savage and an email to Dolphin got me an FTR type for my Barnard/Dolphin 284 rifle, almost by return post – the paint job a perfect match to the original.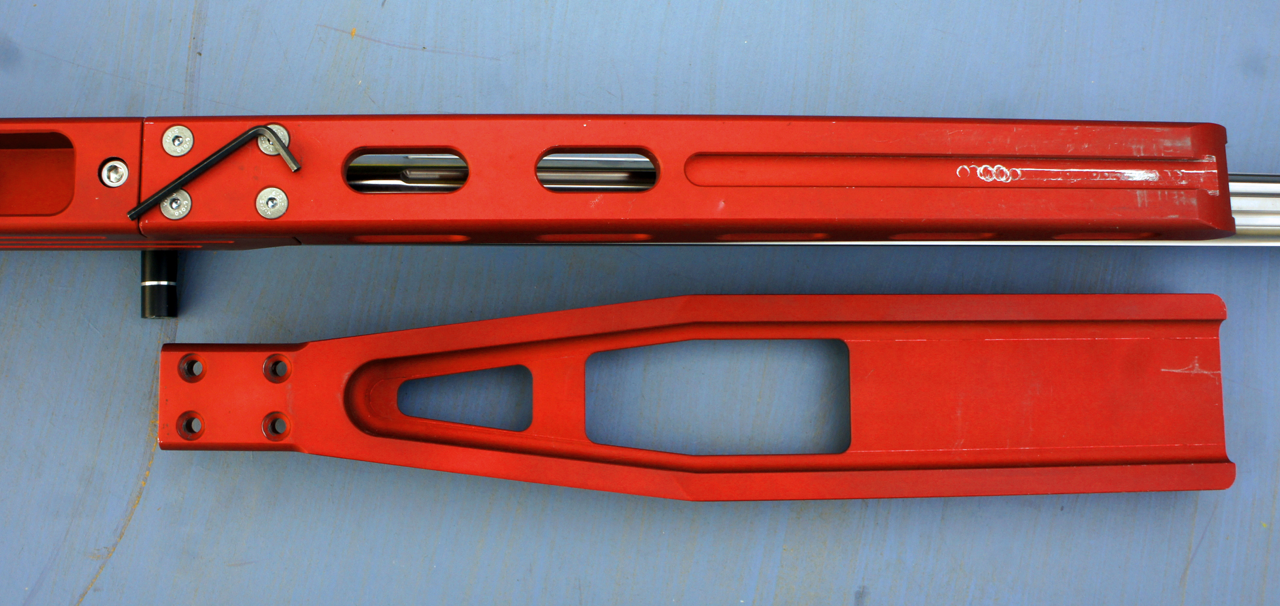 Equally important, pursuant to my desire to use the EVO Carbon bipod close to its lowest setting, is the height adjustable butt-plate/rear bag-rider on these stocks. Now, nearly all elevation setting-up is done at the rear end and the bipod height/muzzle elevation only fine-tuned with its capstan wheel thus ensuring maximum spread on the feet.
As we're talking nuts and bolts, let's have a quick look at all the Tier-One designs, whether alloy or carbon. They're all supplied with an easily operated twist-lock fore-end attachment for Freelander or Anschutz rails, plus an extra adaptor for a sling swivel stud in the case of the Carbon model.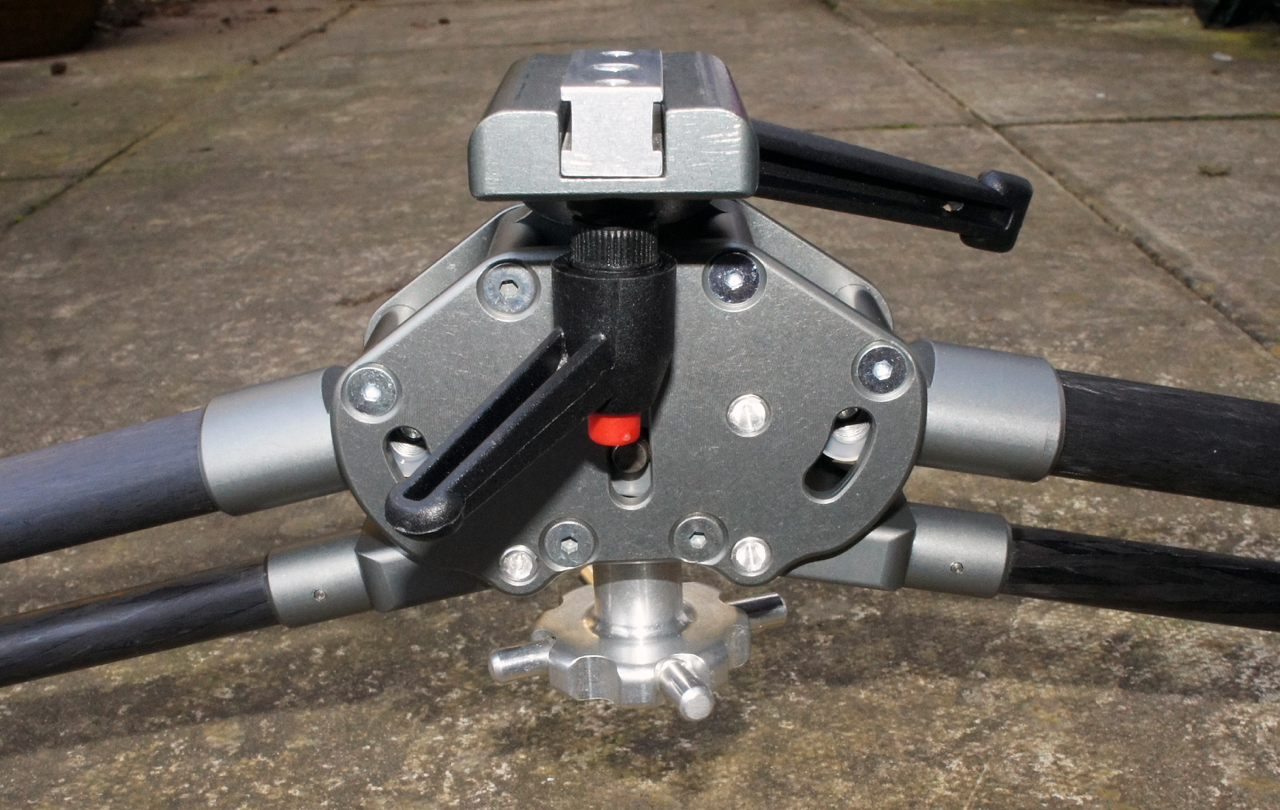 Tier-One Bipod front showing the stock attachment lock and the capstan wheel height adjuster
There are also two thumbscrews that lock-up the inner pivoting ends of the legs and a large friction cant-lock lever which very easy to adjust and with oodles of purchase so it really does lock things up solidly – no slip under bullet-induced torque here. (Evo says this bipod is 50BMG-capable and I believe it). Elevation adjustment is through the neat capstan-wheel underneath the pivot assembly – handy to reach and operate from the prone position and very easy/smooth, allowing precise adjustment. The bipod tracks on twin 'ski' feet well suited to Diggle's turf firing points and, as with all such bipods, will work well on cinder, gravel or stone surfaces using a mat or piece of carpet.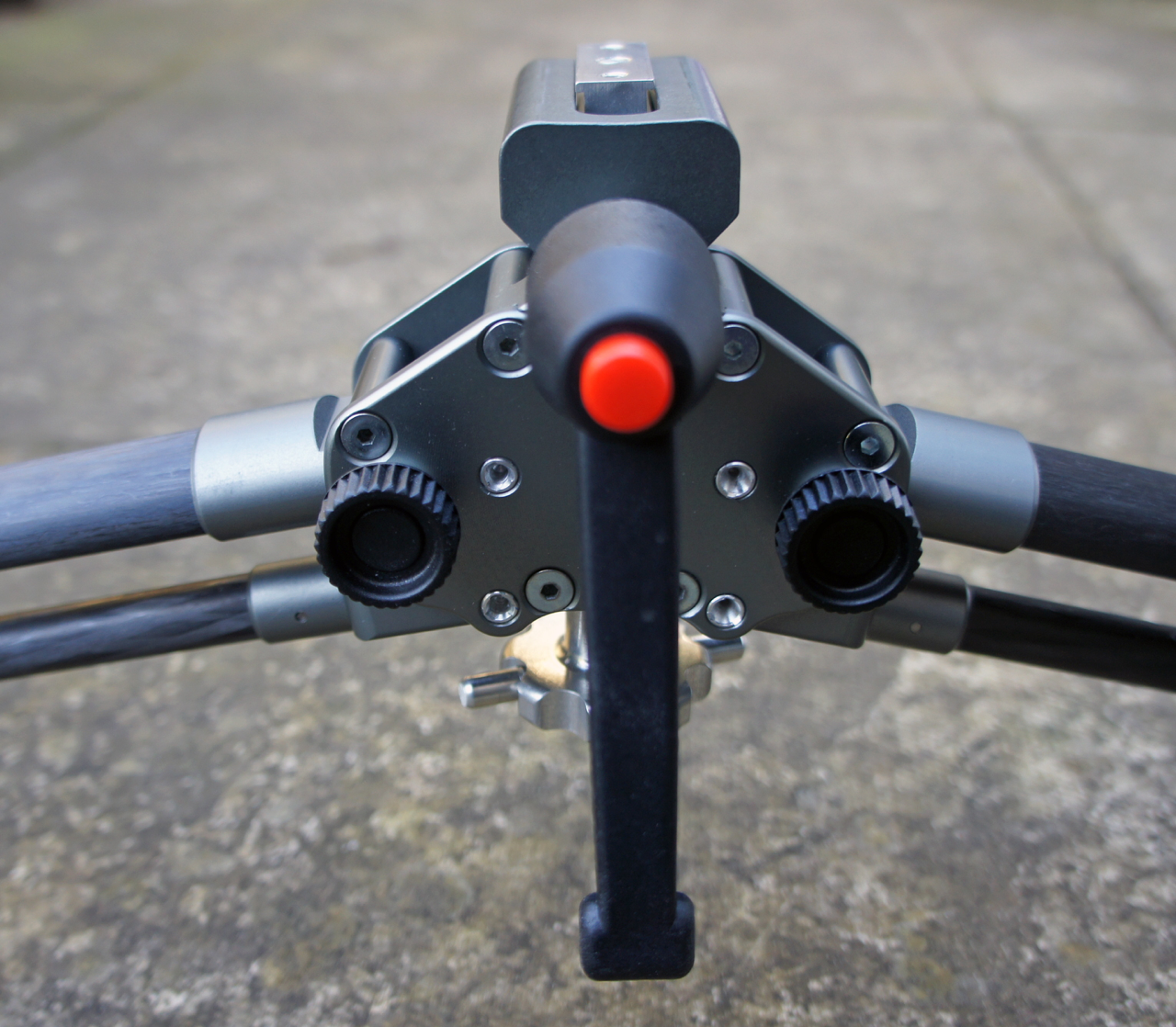 Tier-One bipod rear with the massive cant lock lever and pivot locks. (The cant-lock is moved out of the way of the capstan wheel once set up)
On the Range
So, does it work in F-Open? It does indeed, no problems encountered with either rifle. Tracking on the firing-point grass was excellent and only minor elevation adjustments were needed as the feet cut a track in the ground. Stability was superb – unlike much of my FTR shooting days, I rarely had to re-position the rear bag, staying aligned on the target through strings of shots.
A bit of research with Sierra Bullet's Infinity Suite's recoil calculator showed that a 21lb 'Open' rifle firing my 7mm-08 load (160gn Sierra TMK at 2,800 fps with 47gn powder) has lower recoil acceleration and energy than my old 308 FTR loads produce in that class's maximum 18lb all-up weight. Whilst that didn't surprise me, it did to discover that the 284 with 175s at 2825 fps was also comparable to the 308 shooting 155s in a hot loading in the lighter rifle. Go onto heavier/hotter 7mm loadings and the bi-pod does have to work harder than in FTR but, by a great deal less than one might imagine.
Fog and Sun
I mentioned that the EVO Carbon bipod's debut saw less than auspicious conditions, in fact it nearly didn't happen at all. The range was fog-bound on the morning of our 500-yard match and, as the 2pm cancellation deadline loomed, things hadn't improved – if anything it got worse with a rising wind driving a fine but dense drizzle downrange. Then suddenly the cloud lifted and it was game-on! FTR and Target Rifle got their 2 and 20 in but, things were going downhill when it was F-Open's turn – poor visibility and a gusting 5 o' clock wind blowing the drizzle onto the scope ocular lens. Wipe the lens, glance at the flags, take the shot in no more than 10 seconds was the only way to play things.
I quickly dropped three points then managed to get a grip, so much so that after shot 10, I got the competition shooter's dream, every shot smack on the 'waterline', perfect elevation for four 'V's and two good 'fives' bracketing the 'V'-ring. With four shots to go I was on a high – despite the miserable conditions – confidently expecting a 97 with a good V-bull count, not a winning score maybe but giving a good placing and some valuable championship points. Then, just after shot 16 was marked, the Diggle weather god dropped a curtain in front of the target – a bank of cloud had blown in and totally covered the far end of the range. Game-over! Still, those six shots really made my day and meant that everything – rifle, ammunition and bipod – were obviously working in complete harmony.
Two weeks later, conditions for the scheduled 600 yard match couldn't have been more different with spring having sprung, a lovely sunny morning with excellent visibility and a light-to-moderate wind, again from 5 o'clock, which the flags suggested was running pretty steady. As is so often the case at Diggle, they lied! In reality, the wind was all over the place, even fishtailing slightly and many competitors got weird elevations too – no huge shot to shot changes but easily enough to put you into the four, not helped by the Diggle's 500/600 yard target being smaller than the ICFRA standard at this distance (0.45-MOA 'V' and 0.9-MOA five-rings).
This time, it was my Barnard 284, again in a Dolphin stock and again set up with a low stance maximising the bipod 'footprint'. I felt really comfortable throughout and, in conditions where you had to work hard for every point, unable to put any trust in the flags, I was helped by how easy it was to shoot off the EVO Carbon bipod. Having shot all round the 'V', I finished on 95.1v for second place against another 95 from a 7WSM shooter but down on his 'V' count. Elevations weren't quite as good as I might have expected shooting off a heavy front-rest but, that may have been conditions, and I hadn't got the rifle perfectly set up – some changes to the scope eye-relief and stock 'length of pull' made since. With the 'fours' all marginal 'leakers', that would probably have been 97 or 98 on an ICFRA dimension target.
The 284 and Carbon bipod in use at 600 yards shooting slightly uphill on this firing point. Note the very low stance
The recommended price for the Carbon model is £349-50 (£295 for the original aluminium FTR bipod) and it can be bought online from Evo Leisure (www.tier-one.eu). Osprey Rifles has long had close links to Evo Leisure and its Tier-One products, so is a good source for anything in the company's range (www.ospreyrifles.com). Major distributor RUAG Ammotec UK Ltd (www.ruag.co.uk) has recently taken the entire Tier-One product range on board and, whilst this outfit does online retail sales, also provides a nationwide supply route for gunshops in its role as one of our larger trade suppliers.
Read the full article here.