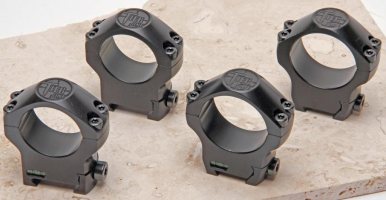 GunMart.Net - A great review of our Scope Mounts & Rails
Check out this great review from the guys at GunMart.net!
Scope mounts are one of those items that a lot of shooters tend not to think about too much. Getting the right rifle and calibre and scope are paramount and mounts offered by the gunsmith will usually do; but! I work the other way, the scope mount is the most important part of any rifle set up, without a decent union between rifle and scope you have an outfit that will always struggle in performing 100%.
Rock solid
It's not only important to achieve an unshifting scope mount to maintain zero in any weather conditions but the correct height for correct eye alignment is paramount too! I have been using products from Tier One on a lot of my rifles and it occurred to me that they have never let me down and if I want decent, well-made and reliable products, their mounts, rings, and scope MOA rails can be relied on.
I was chatting to Craig Coote (MD of Tier One) at the British Shooting Show about wildcats and long range sub-sonic shooting (and he fell asleep, Ed). Seriously, he kindly sent down some of his new mounts and MOA rail for test.
Scope mounts
Tier One make mounts for 11mm, 17mm dedicated rails as well as Picatinny and TAC ring sets, along with mono-mounts and Blaser-specific designs. I had some Tikka or 17mm ring sets, as I love my Tikkas for wildcat projects and Craig sent down a set for a 34mm bodied scope. These dovetails are precision engineered on a 5-axis CNC machine, which maintains maximum accuracy and tolerances by minimising the number of operations involved, so no resetting and right first time!
Each ring is made from 7075T6 aluminium, for light weight, yet incredible durability and all the hardware is Titanium for longevity and maximum strength. A choice of a Cerakote finish to match your rifle as appropriate for only £25 extra and is a nice option too. Scope size wise, you have an option of high or low in 30, 34mm and medium in either 35 or 36mm. Prices range from £130 to £145, which is excellent value considering the quality.
Accommodating
I had the 34mm medium set, which accommodates the Kahles 6-24x TAC Illuminated scope. Not only do they look great, they have a nice scalloped profile and superb small attentions to detail. For example, on the inner clamp surface, where the top and bottom halves meet, this is recessed so that the body tube is not pinched when you tighten them up. Each mount set also come in its own plastic case that has both types of torque head driver for the top rings and clamp screw and the 17mm also has a recoil stud to fit if you like. You also have a hard anodised 30-micron finish that is semi gloss and is very scratch resistant.
One feature I really like with these mounts, is that they sit flat to the action and square without any tilt as the dovetail clamping section is cut, so that when tightened, it clamps evenly and does not tilt up on one side. This maintains perfect reticle to bore axis, a good thing. The other feature that comes standard, is the inset level bubble in the base of the rear mount. Here, you can see instantly if you are canting the rifle and so correct quickly and it helps set up a scope, so the reticle is horizontal in the field of view.
Getting high
The Picatinny fixture 30mm high mounts Craig also sent are made to the same high standards and can be bought also as 1" (25.4mm), 34, 35, 36 and 40mm scope body sizes. There are also reducer rings, so you can fit a 1" body tubed scope into 30mm sizes, increasing the usefulness of these mounts for several optics. Some of these mounts can be bought as medium, high or extra high, to allow big scopes and clearance of the objective lens on a bull-barrelled varmint or bench gun.
I had the high mounts on an RPA Quadlite .20 Dasher and an older Swarovski 6-42x 50mm target scope, which I love. These mounts again have the level bubble in the rear mount and fit square and securely to the one-piece Picatinny rail beneath. These high mount versions are 30mm high from where they sit on the top of the rail to the centre of the ring, other heights range from 22mm to 35mm, dependent on ring size.
Locked in
There is also an integral recoil lug that is part of the base of the mount, so not like some mounts where they fall out! This is a better system and fits snuggly into the corresponding rebate in the Picatinny rail. Craig has a range of one-piece Picatinny rails, all made from the same 775T6 aluminium used in the mounts and exceed the Mil Spec 1913 Picatinny standard. You have a choice of 0 MOA inclination or 20 MOA tilt, but you do get a good array of actions they will fit on. These range from Anschutz rimfires, to bench rest actions, Remmies, Sakos and Weatherbys and a lot more, with a £15 Cerakote finish option. This rail is 17cm long and has 15 cross slots, so two or mono-mount systems have a lot of room to get the scope size and eye relief you want.
Conclusion
These are great mounts made by people who actually shoot, so they know what we need. They are English-made and represent excellent value for money and you will never have to worry about a dodgy mount again; if you miss, it's down to you! Craig also makes a lot of accessorises, such as scope levellers, bipods and sound moderators and bottom metal for Tikka and Rem with AIC magazines. Highly recommended!